Janitorial Training Overview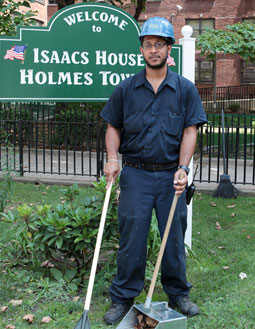 The Janitorial training prepares NYCHA residents to be successful NYCHA Housing Caretakers (J). Selection is very competitive and the training partner makes the final selection on training. Caretakers maintain the grounds, buildings and public spaces of NYCHA developments. During the training, candidates review basic literacy, soft skills and customized skills training designed for transitioning into employment and achieving success in the workplace. Graduates will receive job placement assistance for Caretaker (J) positions at NYCHA. NYCHA HR makes final determination of employment for trainees of the Janitorial track and any other tracks where NYCHA is the employer.
Training Partner: Brooklyn Workforce Innovations 

Recruitment is now OPEN.
To qualify for training, you must:
Be a NYCHA resident on the lease
Be 18 years old or over
Have valid working documentation
Be able to work for 8 hours on your feet
Be able to pass a drug test
Be able to pass the TABE test at a 6.0 reading/math level
No High School Diploma, or GED is required
In this FREE Janitorial training, participants will gain:
4.5 weeks of full-time training
OSHA 10 Certification
Practical mathematics
Equipment and Compactor Operation training
Floor Stripping and Finishing training
Hands on cleaning training
Return to the NRTA main page!