NYCHA and HPD partner with not-for-profit organizations to create affordable homeownership opportunities for for low- to moderate-income New Yorkers.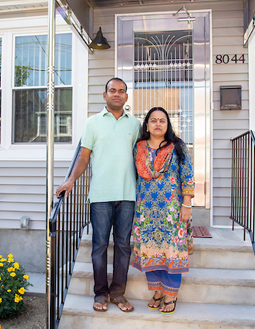 NYCHA, in partnership with HPD and local non-profit organizations, has made great progress in connecting residents to home ownership opportunities through initiatives such as the Small Homes Rehab Program. Congrats to first time homeowners Nripesh Das and Shukla Deb!
For NYCHA public housing and Section 8 residents who are considering home ownership, the Resident Economic Empowerment and Sustainability (REES) team at NYCHA coordinates information sessions to provide education on homeownership. NYCHA also is partnering with organizations such as Habitat for Humanity and Neighborhood Restore to transfer 1 to 4 family repossessed homes for rehabilitation and provide home ownership opportunities to low income families.
Learn more and sign up for info sessions: http://opportunitynycha.org/about-financial-empowerment/homeownership/.