NYCHA Resident Training Academy


The NYCHA Resident Training Academy (NRTA), funded by Robin Hood, provides employment-linked training opportunities and job placement assistance to NYCHA residents in the construction, pest control, maintenance, and janitorial fields. REES works with successful graduates of the Academy to provide job placement assistance by focusing on jobs with career paths. Past NRTA graduates have worked with REES to obtain jobs at NYCHA in positions such as Caretakers and Pest Control Technicians, and with NYCHA contractors and affordable housing developers in the various construction trades.
The NRTA is collaboration among NYCHA, Robin Hood, and many of the premier training providers in the city: Brooklyn Workforce Innovations (BWI), Nontraditional Employment for Women (NEW), and the New York City College of Technology (City Tech).
In addition, the NRTA is in partnership with Building Skills NY for construction training and job placement with affordable housing developers. The construction training is designed to provide motivated students with the knowledge and skills required for a successful career in the construction industry.
The NYCHA Resident Training Academy (NRTA) offers Janitorial and Construction training tracks. To learn more and obtain answers to frequently asked questions about each track, click on the links below:
We are not currently recruiting, please check back later or visit our events calendar for other upcoming opportunities.
Construction Track:  Recruitment closed.
Janitorial Track:  Recruitment closed.
Minimum Basic Requirements
Authorized NYCHA residents on the lease 18 years of age or older
Have valid working documentation
Must pass the Test for Adult Basic Education
Able to pass a drug test at any point before, during and after training
Lift 50 lbs. or more
Perform 8 hours of physical work each day
Must be 100% available during the work week to participate in full-time training activities.
Travel, childcare and other logistical issues must be resolved prior to enrollment into the NRTA.
Must meet track-specific requirements
Application and Selection Process
The NRTA has a competitive, multi-step application process based on qualifications and proven interest. Learn more about the process for application & selection.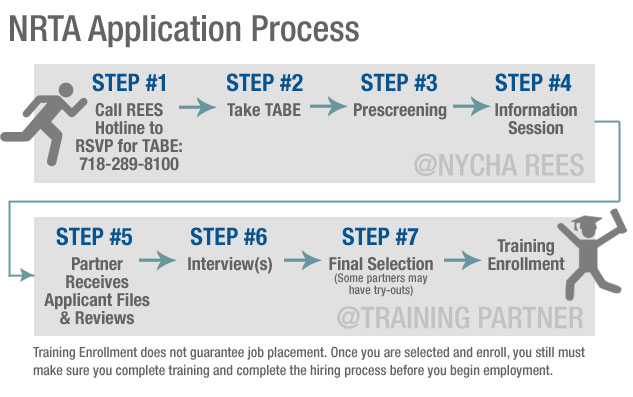 NRTA Training Outcomes
Since program inception in 2010, there have been 1087 NRTA graduates, 88% of whom have been placed into jobs to date as Caretaker Js, Caretaker Ms,  Pest Control Technicians and Maintenance Aides with NYCHA, and in various construction-related positions with NYCHA contractors and affordable housing developers.