About Business Development

REES partners are located throughout New York City to help you launch or grow a business. They can provide assistance that's key to the success of aspiring NYCHA entrepreneurs (NYCHApreneurs): business education, access to financing, and affordable space.
REES business development partners can provide:
Business Education: REES partners can help you plan out your business. They can also help you incorporate your business and obtain licenses and certifications (such as the MWBE designation).
Access to Financing: There are different funding options available to help you take your business to the next level, including loans, grants, and crowdfunding. REES partners can help you get ready to receive funding and evaluate the best option for your business.
Affordable Space: Through REES and its partners, you can get connected to business incubators, which offer affordable space, training, and mentorship. Incubators are also a stepping stone to securing your own location. Did you know that you can operate certain businesses from home? Find out more about home-based businesses here.
Partner services meet NYCHA resident where they are.
Since building a business is a process that requires different types of assistance as a business matures, the first step is to identify where you are on your journey. NYCHA Entrepreneurs or "NYCHApreneurs" fall into the following categories:
Dreamers: Residents with an idea, no business and no income generating activity.
Idealists: Residents with a registered business and no income generating activity.
Underground Entrepreneurs: Residents with cash generating unregistered businesses.
Go-Getters: Residents with a registered, cash generating business with less than $5,000 in annual sales.
Champions: Residents with a registered, cash generating business with at least $5,000 in annual sales.
To get connected to these valuable services, RSVP for a RBD Orientation or a REES Information Session here or by calling 718-289-8100.
Additional Resources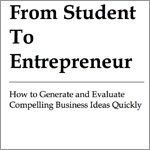 If you are not quite sure where to start, From Student to Entrepreneur: How to Generate and Evaluate Compelling Business Ideas Quickly, by Neal Lurie, can help guide you.  Use this booklet to generate workable business ideas and get a sense of which of those ideas you'd like to pursue.  We review your ideas with this workbook in the REES Business Development Orientation.