Do you sell FOOD for money? Put your FOOD BUSINESS on the path to success!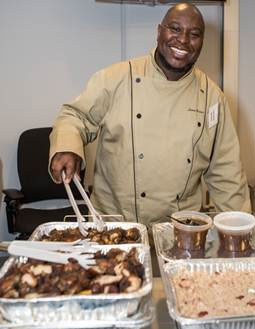 The NYCHA Food Business Pathways Program (FBP) is a collaboration between the NYC Department of Small Business Services (SBS), The NYC Economic Development Corporation (EDC), Citi, Hot Bread Kitchen, Start Small Think Big, and NYCHA REES plus other kitchen incubators and REES zone partners around the city. This FREE innovative business accelerator program empowers NYCHA residents and NYCHA Section 8 voucher holders to start and grow food businesses as part of New York City's efforts to support entrepreneurs in the city's neighborhoods and communities.
Participants receive:
8 weeks of business training
Grants to pay for licenses and permits to operate your food services business
Access to a commercial kitchen
Mentorship and coaching
Lance Brown, Food Business Pathways Graduate – "The Food Business Pathways program has been such a blessing to and for me. Since attending and graduating from the program I have made serious headway in the establishment of my business. I'm now a registered corporation, all my business papers are completed, I'm operating part-time doing catering and the future looks great."
Click Here for more information. Click Here to RSVP for an information session.