Are you interested in Construction and becoming a Union Apprentice?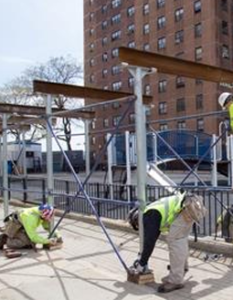 As a New York State Department of Labor approved Direct Entry Pre-Apprenticeship program, t
he NYCHA Resident Training Academy (NRTA) can help you launch your construction career.
You can enjoy the rewards of a construction career and become a
Laborer, Roofer, Carpenter and more.
 Become a union apprentice with the NRTA. The first step is to register for the TABE test.
PLEASE NOTE:  Reserve your spot TODAY for the two TABE test THIS WEEK.
Last Chance to Register. Classes start June 18th.
To apply, call the REES Hotline at (718) 289-8100 to RSVP for the next available TABE session.
Program selection is competitive and sessions fill up quickly.  If you are interested in applying, register for a TABE exam today!  The NRTA aims to prepare residents for long-term success and provides job placement opportunities. REES provides successful graduates of the Academy with connection to construction careers and union apprenticeship.
Visit the NRTA main page for details on the application process.