New Workforce1 Career Center Opens for Far Rockaway Residents​​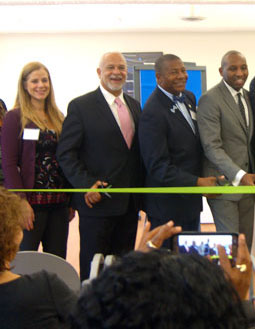 On December 1, NYCHA joined with the Department of Small Business Services (SBS), the Center for Economic Opportunity (CEO), and Citi Community Development to celebrate the opening of the Rockaway Workforce1 Career Center. The new center—part of the Rockaway Economic Advancement Initiative to provide a continuum of services to jobseekers—connects Rockaway residents to high-quality employment by providing comprehensive career services.
"Connecting NYCHA residents to quality employment is an important part of our long-term strategic plan NextGeneration NYCHA," said NYCHA General Manager Michael Kelly. "By working with partners like the Department of Small Business Services, the Center for Economic Opportunity and Citi Community Development, we can ensure our residents have increased access to job training and employment opportunities, and the support they need to achieve economic empowerment."
The Rockaway Workforce1 Career Center will offer wrap-around career readiness and recruitment services, including:
Career planning and job search preparatory services
Recruitment and job matching
Resume development and interview support
Group and one-on-one financial counseling
On-site occupational training for in-demand jobs
Assistance for Rockaway businesses to find, hire, and train a qualified workforce
Referrals to Rockaway community-based organizations, workforce development providers, training providers, faith-based organizations, and social service agencies
The Rockaway initiative is part of Doorways to Opportunity, a $1.4 million multi-partner initiative funded by Citi that provides New York City public housing residents with access to employment opportunities, free financial counseling, and entrepreneurship training in partnership with community organizations.
NYCHA residents can access employment opportunities and career services by visiting the Rockaway Workforce1 Career Center at 57-17 Rockaway Beach Boulevard Arverne, NY 11692, Monday to Friday from 9:00am to 5:00pm, 347-926-4376. Learn more about Workforce1.
Workforce1 is a service provided by the NYC Department of Small Business Services that prepares and connects qualified candidates to job opportunities in NYC by providing skills training, resume building and career opportunities.