Join the Green City Force!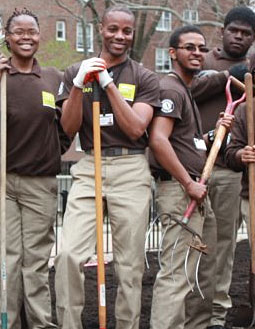 NYCHA's Department of Resident Economic Empowerment & Sustainability (REES) is continuing its strong partnership with the NYC Green City Force (GCF) by again recruiting young residents for GCF's Clean Energy Corps.  Up to fifty qualified NYCHA residents will be selected for the next class, which begins in mid-August 2013.  Green City Force provides young NYCHA residents with training and leadership opportunities related to greening the economy. To date, approximately 100 NYCHA youth have graduated from the program. 
Since its founding in 2009, Corp Members have helped reduce the carbon footprints of thousands of New Yorkers through energy reduction projects, fresh food gardening, opening a new park on public housing property and conducting outreach activities to educate and engage low income communities citywide, helping residents save hundreds of dollars in energy bill costs.
Residents between the ages of 18-24, who have a high school diploma or GED, and will not enroll in college this fall, can call the REES Hotline at 718-289-8100 to register for an information session.  Learn more about REES services to NYCHA residents and GCF at www.opportunitynycha.org.