Are you interested in a career in technology, finance, or business?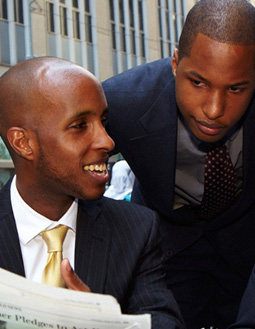 Year Up is a no-cost, one-year, intensive training program that provides young adults with hands-on skill development, corporate internships with top companies, an educational stipend, and college credits. The program consists of 5 months of classes in technical and professional skills, followed by a 6 month internship with one of our corporate partners. Our current corporate partners include Google, American Express, Facebook, Morgan Stanley, Bank of America, JP Morgan Chase, The Huffington Post, and many more. 
With the skills and opportunity to succeed, there's no limit to what you can do. 84% of Year Up graduates are employed or attending college full-time within four months of graduation and earn an average of $30,000 per year.
Am I eligible?
You can apply to Year Up if you are:
18-24 years old
High school graduate or GED recipient
U.S. citizen, permanent resident, or have an employment authorization card
Available Monday-Friday for the full program year
Highly motivated to learn technical and professional skills
What does it cost?
Nothing. The only investment that we require is your time and commitment. In fact, Year Up participants receive a monthly stipend of $600-$1000 through the program year.
When does the program start?
Classes begin in March 2015. Since applications are considered on a rolling basis, we encourage you to apply early. 
How do I apply?
Submit an online interest form by visiting http://www.yearup.org/. Only candidates that submit an interest form will be considered 
After submitting an online interest form, you will be asked to attend an Open House and complete an online application. 
Apply NOW – Application deadline is approaching fast! For more information email us at admissionsnyc@yearup.org