Green City Force 2015 Recruitment is Now Open!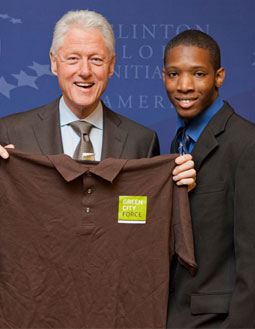 Up to forty qualified NYCHA residents will be selected for the next class, which begins in January 2015. Green City Force provides young NYCHA residents with training and leadership opportunities related to greening the economy. To date, over 200 NYCHA youth have graduated from this competitive program. As of a recent cohort 85% of graduates are employed or enrolled in college.
Residents between the ages of 18-24, who have a High School Diploma or GED, and will not enroll in college this winter, can RSVP here or call the REES Hotline at 718.289.8100 to register for an information session – which is the first step in the application process.
Program Benefits Include:
$500 Biweekly Stipend
$2,675 towards Further Education
Job Training & Hands-on Experience
Monthly Metrocard
College Preparation
National Certifications
Active Alumni Network
Post-Program Support
Since its founding in 2009, Corp Members have helped reduced the carbon footprints of thousands of New Yorkers through energy reduction projects, urban farming and green infrastructure projects, and outreach to low-income communities that helps residents save hundreds of dollars in energy bill costs. Green City Force is also involved in Hurricane Sandy recovery efforts throughout NYC.
In 2013, Green City Force was awarded the NYC Innovation Nonprofit Award through the New York City Mayor's Office and was also recognized at the White House as a Youth Jobs+ "Champion of Change."
Here's what one graduate has to say!
"My choice to join Green City Force was one of the best decisions I have made. My path before GCF seemed unsure and rocky, but now I am on the smooth highway to success with a plethora of opportunities. I did not think I would have the motivation to go out and get a job or further my education but now it isn't just a dream, it is a reality. I have learned how important work ethic, reliability, team work and professionalism are to getting where you want to be and have gained more life and work experience in 6 months than I received in the years before I joined GCF. Most importantly, I have built a wonderful community of business colleagues and lifetime friends that will stay with me forever." – Derricka, 22 years old, Lower East Side NYCHA resident.
Watch a Channel 12 News clip of Green City Force Corp Members in Action!
Storify from GCF Twitter Chat – Get Inspired!