Do you have a Food Business or want to start one?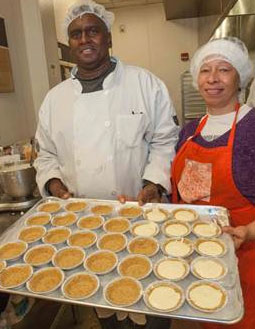 The NYCHA Food Business Pathways Program (FBP) is a collaboration between the NYC Department of Small Business Services (SBS), The NYC Economic Development Corporation (EDC), Citi, Hot Bread Kitchen, and NYCHA REES plus other kitchen incubators and REES zone partners around the city. This FREE innovative business accelerator program empowers NYCHA and NYCHA Section 8 residents to start and grow food businesses as part of New York City's efforts to support entrepreneurs in the city's neighborhoods and communities. Participants receive:
Eight weeks of business training
Grants to pay for licenses and permits to operate your food services business
Access to a commercial kitchen
Mentorship and coaching
Click Here for more information. Click Here to RSVP for an information session.
(photo: Washington Houses Residents run The Harlem Pie Man, a baking business, out of Hot Bread Kitchen Incubator in East Harlem, after receiving a scholarship.)